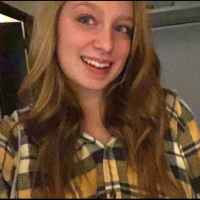 Hi friends! My name is Kim Scott and I am a current RA in Kainai on floors 1&2. I lived in Uhall my first year as a resident and I am running for VP Uhall! I am a second year kinesiology/education student and at the end of my degree I hope to get my masters with aims of being a special education teacher! I grew up playing field hockey and even played for team Alberta for many years. I love cooking and baking, hiking and camping, and I absolutely love plants! Feel free to send me an email or a dm! I'd love to hear from you!
What do you know about the position you are running for?
Some of the roles of a VP are quite obvious, interviewing and hiring a team, helping organize training and facility events, making a RAD schedule. But I know this position is so much more than planning facility events and making a RAD schedule. This position is about advocating for your team of RAs and for your residents. This position is about making sure everyone feels supported to do the best job possible and to have the best residence experience possible. This position is about making sure everyone feels included and accepted. A vice president position is about being able to come up with creative solutions to extraordinary problems because we never know what this job will bring, it is not about having all the answers all the time. It is about leading a team to success and not being simply someone's boss.
What are some of the initiatives you would like to implement if you are elected?
My initiatives if elected include advocating for an inclusive language course to be implemented during training week for all ORS members. This way we can lead by example for residence with proper wording and communication to promote the type of community we want to create. It is super important everyone feels included through our language and choice of words, and often times it is not thought about often enough. Another initiative I want to start is a program where ORS members go into different schools, in and around Lethbridge, including schools on reserves to promote residence. I think this is a great way to promote diversity in residence and it also gives ORS members a chance to practice their public speaking.