Elizabeth Waddle VP Coulee View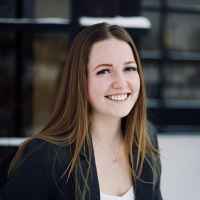 Hi there! My name is Elizabeth Waddle, I use [She/Her] pronouns and I am running for the position of Vice President Coulee View in the ORS elections. I am a fourth-year student, studying Kinesiology with a minor in Liberal Education. I have been living in residence since my first year, and have had the opportunity to live in three different buildings. I have also been a Resident Assistant for the last two years within the Organization of Residence Students on the Lethbridge campus. Through my university experience, I have gained knowledge about campus life through living on residence and leadership roles through directing a charity event called 5 Days for the Homeless. My experience will aid in my role as VP Coulee View, if elected!
What do you know about the position you are running for?
What are some of the initiatives you would like to implement if you are elected?
My main initiative is to promote all around wellness, in particular with reducing the stigma surrounding mental health. There are many resources available and some may be well known to residents but I want to do more to increase the knowledge surrounding the resources and reduce the stigma about seeking help. My second initiative is to bridge the divide between Coulee View and UHall. Traditionally, UHall is located down the hill and this geological difference in location creates a divide between the two first year sections. If elected, I want to work closely with the VP & RA's of UHall, as well as with my own team, to find a way to bring these two sections closer, not only this upcoming academic year, but for years to come! I am passionate, driven, trustworthy, honest, and reliable. I believe I can be a good fit for the role of VP Coulee View!
Please reach out to me if you have any questions. My email is: elizabeth.waddle@uleth.ca or you can reach me through Instagram: elizabeth.vp.coulee.view for more information on elections, myself and my platform!