Laisa Kelly Arts & Science Rep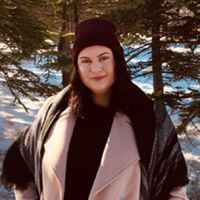 Hello Everyone!
My name is Laisa Kelly, and I am running for the position of Arts and Science Representative for the 2021/2022 Academic Year. I am a Third Year B.Sc. Neuroscience major and am currently working in the Metabolomics Lab under Tony Montina and Gerlinde Metz. We are studying how Anxiety, PTSD, and Depression affect stress levels in Syrian refugee's. The aim of the study is to help tailor healthcare practices when it comes to dealing with populations that have dealt with trauma prior to settling in Canada.
When I am not in lab, I am currently a Resident Assistant in the Townhomes for the Organization of Residence Students. This is my second year on the team, and I worked in University Hall on D/E4 last year. I have been able to grow a lot in my time on ORS and am currently a co-chair of a committee focused on providing residents with a fun and interactive events, virtually. I am also the Communication Manager for the newly ratified club Q-Space, which aims to be the connection and provide safe spaces for queer individuals at the U of L.
What do you know about the position you are running for?
A, ArtSci Representative acts as a connection between arts and science students, the student's union, and the committees on which we sit. It is our responsibility to ensure our departments student voices are heard within upper administration and faculty meetings. We help provide a student perspective to discissions surrounding actions the directly affect our education. We pass along concerns, questions, and advocate for issues our ArtSci students. I will provide this voice by asking for a committee placement where my voice will have the most impact. It is our job to identify stakeholders and faculty members who will listen to our voices and act upon initiative we bring forth. We keep students informed on government decisions that directly impact our department and provide a bridge to students to access more information on these decisions.
What are some of the initiatives you would like to implement if you are elected?
I want you to hold me accountable to advocate for your accessibility. I bring passion and drive to everything I tackle, and I will fight for our voices to be heard in decisions that directly impact ArtSci students. I have three main campaign pillars: Accessibility, Advocacy, and Accountability.
Education is the reason we are all here! I believe that everyone deserves access to experiences that are crucial in expanding career opportunities and your education. Independent/Applied Studies are the steppingstones to this. I am currently in an Independent Study and it was the best choice!
It renewed my love for the field that brought me to the U of L. It felt better to be doing work for more than just a lab, but a real purpose. The ability to work on real studies should be available to anyone who wants to. Professors need to advertise space in their lab for undergraduate research positions. I have been speaking to VP Academic Candidate Rebecca Parkkari about possible committee placements where my advocacy would do the most effective. I plan to speak to faculty to encourage themselves and graduate students to advertise the need for research assistants.
Every student, no matter their journey before coming to ULethbridge, deserves access to a fulfilling and rewarding education.