Alexandra Dodd Fine Arts Rep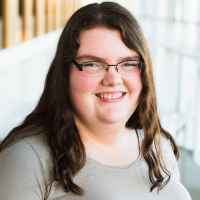 Hello! My name is Alex Dodd and I'm running for fine arts representative for the 2021/22 year! I am a third year student and I am presently in my second year of a BFA in Drama Performance. The fine arts have played a highly important role in my life for well over a decade now and I am someone who truly believes that they are vital in keeping our school, and society in general, flourishing and moving forwards. In the past five years in particular, I have been very active in a variety of different pursuits, whether that be choirs or community theatre, but most notably I was part of a team that created and started a new fine arts company in my hometown. I have been involved in a variety of clubs in the three years I've been attending the U of L and have been on the executive team for the Theatre Arts Society since September. Additionally, I started out my time at the university as a music student for my first year, so I have had the pleasure of studying in two out of four fine arts departments.
What do you know about the position you are running for?
What are some of the initiatives you would like to implement if you are elected?
If I were to be elected as fine arts rep, there are three major things that I would like to accomplish. First and foremost, I want to be a strong and reliable voice for all students in the faculty of fine arts. It is important for there to be a clear line of communication between students and faculty and I want to make sure that line is well maintained and constant throughout the year. Secondly, I want bring more awareness to the importance of the fine arts and its students. We are facing unprecedented struggles with our school budget due to provincial cuts to post-secondary education and we all know fine arts is often the first faculty to take a hard hit when it comes to school cuts. It is vital that the importance of fine arts be emphasized in order to attempt to mitigate the financial damage done to our faculty. Lastly, I want to foster a stronger sense of community amongst all fine arts departments. As of right now, I find there is quite a bit of separation between and even within departments. I would like to try to provide more opportunities for cross-departmental collaboration between students and just opportunities for us to meet more people in general. Some wonderful things can come out of collaboration and I would like to see more of those marvellous things to come to fruition.
Thank you for taking the time to read through my bio! If you have any questions for me or you would just like to chat, please do not hesitate to reach out to me!