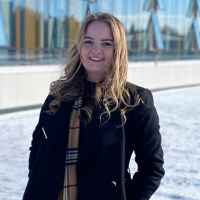 Hello, my name is Holly Kletke and I am running for the position of ULSU President. I am in my third year of a combined degree in Music and Education. Since my first year, I have been very involved in student life, and throughout my experiences as a student I have grown my soft and hard skills, that leave me well-equipped for this role. I have been a representative on the Students' Union since my First Year, and have also served on the UofL Senate. In addition to serving on the Students' Union, I am the current President and a founding member of PACT, our student/alumni council. I am also a Residence Assistant with the Organization of Residence Students. Outside of campus, I am a board member of the Interfaith Foodbank Society of Lethbridge.
What do you know about the position you are running for?
What are some of the initiatives you would like to implement if you are elected?
If elected President, I have three main pillars in mind that encompass my goals for the organization, and for our institution. My pillars are: advocacy, accessibility, and action. The crux of any position on the Students' Union lies in advocacy. This year, it is more important than ever to concentrate and focus our advocacy efforts on all levels, institutionally, provincially and federally. Our organization has the power and the responsibility to reliably advocate on behalf of students, and I am confident that as a President, I will be able to deliver and cultivate a reliable student voice. In terms of accessibility, it is equally as important that our educational experience is accessible for all students. We want to bolster student supports and make sure that the student experience is accessible and inclusive. No matter if we are online or in person, an accessible education is the key to an enjoyable student experience, and the ULSU has an important role in ensuring accessibility for the student body. Finally, my "action" pillar is an indication of the energy and passion I'd like to contribute to the role, should I be elected. I am passionate, dedicated, enthusiastic, and excited to potentially take on this role.
For more information on my pillars and plans, please follow @hollykforpresident on Instagram.