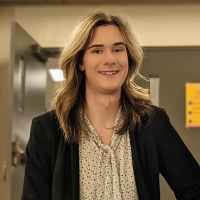 My name is Blaine, I am a proud trans woman, and I am running to be your next President. I am a Mathematics Education student currently in Professional Semester 2. I transferred to the University of Lethbridge in the fall of 2019, because of the excellent education faculty known as the best in the country. While a student at my home college of GPRC, I served as President of the Students' Association for 2 years. During that time, I also had the absolute honour to serve the people of Northwestern Alberta as a member of the GPRC Board of Governors. I have extensive experience with policy governance, working with university administration, and collaborating with academic leaders including serving on the Academic Council (equivalent to U of L's General Faculty Council) for 3 years. I look forward to using my experience, and the skills I gained, to serve the students of this great University, and work together to create a University and ULSU #ForAllOfUs.
What do you know about the position you are running for?
Being President is not just a job, it is a lifestyle. Until the end of my term, every minute I will constantly be thinking about how we can best serve our students, what do our students need, and how do we get there. I will work tirelessly to collaborate with University administration to ensure that the needs of students are being met, and that we are working together towards our shared vision of an excellent student experience. Advocacy, to all levels of government, is also a top priority. We need to set realistic advocacy goals so we can work towards an overall better student experience. We also need to strongly fight back against the government when they are on the wrong track. As the official voice of all students, the President plays an even more important role in this, and it will be part of my responsibility to ensure a cohesive and clear message coming out of the Students' Union. The largest part of the role is to support my fellow GA and Executive members. Support them in whatever they need so they can do their best job, while providing consistent leadership and mentorship to them. The President is also responsible for ensuring the overall vision and direction of the Students' Union is maintained. Lastly, the President is ultimately responsible for the entire Students' Union. I take that responsibility seriously, and I will ensure the entire SU is operating at peak efficiency, getting the best results and value for our students, and I will be the first to acknowledge if we are not meeting out expectations. At the end of the day, this is not a job, not just another student leader position, but is a genuine lifestyle that you have to embrace to support our students everyday.
What are some of the initiatives you would like to implement if you are elected?
We must look at every ULSU program and service to ensure students are getting the best value and results possible. This includes the Health and Dental plan, which I think it is radical that it does not include any coverage for private counselling. Students are facing pressures at an all-time high and need as much as support as we can give them, this is a common-sense change that we can make. So, under my leadership we will conduct a comprehensive review of our Health and Dental plan, to ensure we are getting the best results possible, but also to ensure we are providing the services that students need most.
The covid-19 pandemic has created new challenges for all of us. We can not just "go back to normal". We need a clear, comprehensive, and science-based plan to protect students when we move back to in-person learning. We also must support students who do not feel safe returning to in-person learning until the vast majority of the population has been vaccinated. Online learning has exposed deep flaws in the quality of instruction and assessment students receive. Students expect, demand, and deserve the highest quality education, and simply they are not getting it. Many of our instructors are great at this, but far too many are not. We have Canada's best education faculty, let's create a collaboration to develop PD for instructors to improve their teaching practice. Students deserve the highest quality education, especially when they are paying an all-time high for tuition.
There are many other issues that we need to discuss as well, and I look forward to hearing from students on what they want to see at our University and Student Union.