Gage DeSteur Dhillon School of Business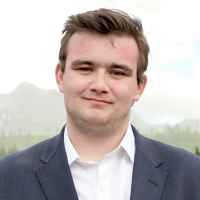 Hi Everyone! My name is Gage Desteur and I'm running for Dhillon School of Business Rep. The reason I'm running for this position is because we the students are suffering! Suffering Academically, Professionally, and most of all socially. We are currently living through one of the most dramatic shifts in education we will likely see in our lifetimes. We have been forced to endure the struggles of remote learning with an inadequate access to resources and support. I believe that by working together we can improve the digital learning experience and facilitate the transition back to in-person learning by letting our voices be heard by the University decision makers. Simply put, we need more guidance, support, and resources to effectively continue our educations digitally.
My campaign is built on fostering a community of COLLABORATION, increased TRANSPARENCY, and ADVOCACY for all DSB students. For far too long our voices have been supressed. Now is the time to collaborate as a faculty to help lift each other up and create a powerful collective voice. It's also time that we open the door to the decision-making process. It's time for real advocacy and not just election rhetoric. That's what I'm offering, Real Collaboration, Real Transparency, and Real Advocacy.
What do you know about the position you are running for?
The DSB Rep is critical role that represents and advocates for students at the Dhillon School of Business to the Students Union and the rest of the University community. I want to bring an inclusive and collaborative environment to you, our students. We are living in a time that we are all connected, but incredibly discontented. We need to bridge the gap between the virtual and the physical worlds.
The DSB Rep is not just a figurehead. With a positive and open attitude, the person who holds this position can affect real change. Advocating and LISTENING to our students must be top of mind for the successful candidate.
What are some of the initiatives you would like to implement if you are elected?
The initiatives I intend to bring to the DSB Rep position is to first and foremost, to foster a community of COLLABORATION within our faculty and within our larger University community. This starts with reaching out to students to get an understanding of what the biggest barriers are and formulating a plan to overcome them. As the DSB Rep I will make this a top priority, especially as we transition back to in-person experiences or blended models.
Secondly, I will add TRANSPARENCY to the decision-making process. Some of the most important decisions are made without students even knowing until after the fact let alone consulting them. Being transparent really matters BEFORE decisions are made, not just after.
Third and finally, ADVOCATE for our students. I will tackle this by creating open office hours where students can openly discuss their struggles, issues, and injustices. I will then bring these to the attention of the appropriate officials and/or committees. The University often says that we the students are the purpose of everything they do, let's work together to ensure they live up to their end of the deal. Our voices deserve to be heard and our opinions taken into account!
Feel Free to Email me if you have questions! My email is gage.desteur@uleth.ca