Madina Ali Arts & Science Rep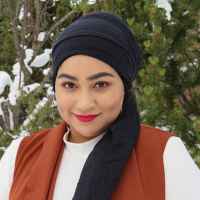 Hello! My name is Madina Ali (she/her) and I am a third-year kinesiology student running for the position of Arts and Science representative. Outside of school, I am a martial artist (mainly Brazilian Jiu Jitsu), a baker, a book lover, a poet and spend as much time as I can outdoors. I also love spending time with friends and family, meeting new people and having deep conversations about life. I am a huge advocate for mental health education. Last year I worked as a residence assistant where I was able to help foster a positive inclusive space and further develop my advocacy skills. You can reach me on my You can reach me at madina.ali@uleth.ca or on my Instagram @madina.ali.artsci
What do you know about the position you are running for?
Arts and Science representatives act as a bridge between the students we represent, and university staff, faculty, and administration. We advocate the needs of arts and science students to the student's union as well as the committees we sit on. We work together as a team of six to amplify the voices of the student's we represent and have their voices heard and concerns addressed. We also share important information with students so that they are aware of what is going on university wide, provincially, and federally that affects them, and what they can do about it.
What are some of the initiatives you would like to implement if you are elected?
If elected I would like to bring forward initiatives for students to learn about their own mental health, coping mechanisms for stress and anxiety, raise awareness of resources available to support student's mental health and work to reduce the stigma around seeking help. I would like to work with counselling services to hold workshop style events where students will have a space to practice mindfulness, self-compassion and learn tips on how to manage stress and anxiety.
I would also like to work to promote a healthy social and academic balance. Social connection is crucial to positive mental health and is one of the amazing experiences of University, however it can be a struggle to manage wanting to experience everything university life has to offer, as well as succeed academically.
I want to promote inclusivity by ensuring that all students feel that their voices are being heard and feel that they are being included in the discussions and are kept aware of what is going on and how it affects them. I would like to specifically focus on BIPOC and LGBTQ+ students whose voices can often become marginalized.
Another major goal of mine is to help build a welcoming and safe environment at the University of Lethbridge. I want to work to make sure that everyone feels that they have a safe space here and can express themselves without fear of judgement. The transition into post-secondary can be tough and a strong and positive community can significantly impact students in a positive way. I want all students to feel a sense of belonging at the U of L.