Mitchell Nixon Dhillon School of Business Rep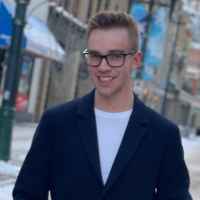 Hello everyone, my name is Mitchell Nixon, and I am running for the position of DSB Rep. I am a fourth-year student at the U of L. I bring to the table a wealth of experience within the University, having taken over 30 classes, participated in many activities and clubs including the IME program, winning the not-for-profit IME Fundraiser pitch, and the Dhillon Business Students' association as a finance director. In addition to my work within the DSB in DBSA and IME, I attend many SPD events and most recently, the CPA future professionals conference.
COVID 19 has affected the University experience in many profound ways and we need someone who can bring proven leadership, communication and firmness to the table in this trying time. I will work with students, faculty and leverage various connections to make sure that voices are heard, students will be represented, and action will be taken to improve the DSB Experience
When not busy with other things, I play piano (currently trying to learn Ballade No.1 in G minor, check it out!), working on/driving my car, or on the golf course?
What do you know about the position you are running for?
I know that the DSB rep is an important link between Students at the DSB, the faculty and the rest of the other students.
I know that the DSB rep and any ULSU members are not just there to attend meetings, but rather provide true advocacy, and I plan on being everyone's voice and personally meeting as many students as I can in order to truly be able to represent them as best as possible!
It is the DSB rep's job to make the DSB heard within the student union and the rest of the university community. I will ensure that when Decisions are made at the ULSU, I will be there to represent the DSB and the Students.
What are some of the initiatives you would like to implement if you are elected?
Synergy: We all can do great things together. Since COVID hit, we haven't been able to be together, I'm sure everyone misses seeing actual people as much as I do. This is why my first platform initiative is: synergy. Synergy defined is: The whole is greater than the sum of its parts." I want to apply that principle to the DSB and bring a whole new level of togetherness and inclusivity within the faculty. We can make great things happen together and that is the energy that I will bring to the DSB role. Representing Every. Single. Voice. In the Dhillon School of business through a synergy based, collaborative approach.
Opportunity: Being a part of the DBSA and IME, I am a heavily involved fourth year student and my experience here has given me the unique viewpoint of how much value academic and networking opportunities add to your degree. In addition to all of the research at the DSB, this is what makes the Dhillon difference. I will work closely with faculty and students to continue and to grow the amazing opportunities for students within the DSB.
Reliability: It is so easy to say you're going to do something, the hard thing is taking action and following through. I promise you that you can depend on me to take action.
I have a history of putting pen to paper and getting the ball rolling on important projects. The way I get started is always start with the end in mind and focus on long term success. Through 10+ hour days this is how I motivate myself.
With someone like me representing the DSB, you can rely that the initiatives that you want will be ACTIONED not left alone.
Thanks for Checking out my platform and remember to VOTE and consider voting Nixon if you want a confident and supportive DSB Representative.