Azra Pira Arts & Science Rep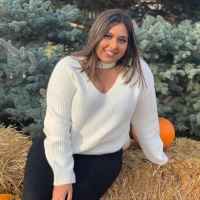 Hi! I'm Azra Pira, a 4th year Sociology major and I'm excited to have the opportunity of representing you by running for the position of Arts and Science representative! I have a passion for volunteering, reading, baking goodies and curating playlists for all of my friends. I have volunteered for many organizations such as Big Brothers Big Sisters and also the Lethbridge Public Library. Currently, I'm also the Vice President for the Ismaili Students' Association which is a club designed to provide Ismailis at the University support and a sense of community.
What do you know about the position you are running for?
Being an Arts and Science representative is a great responsibility but also a place that can bring about positive change. Acting as your representative, I would be the link between the faculty, the administration, and the students. The representative is also a voice for you, so our values (mine and yours) must align with each other. I'm here to learn about what matters to you, both individually and as a collective student body. There are 6 Arts and Science representatives, who work together and are accountable to you to ensure that with the support of one another we can provide you with the best student experience possible here at the University.
What are some of the initiatives you would like to implement if you are elected?
During my time here I have seen how several Black, Indigenous, and other students of colour (BIPOC) have been excluded, alienated, and discriminated against in many of these university settings. My position as Vice President of ISA made me realize that the alienation faced by these students has created a divide amongst the student body and led to exclusion and feelings of there being a barrier between different groups of people . As an Arts and Science representative, I will make sure the voices of BIPOC students are heard and that I try to mend the divide by creating designated spaces and settings where BIPOC faculty and students can come together and collaborate with one another. Along with that, I would love to organize virtual or (fingers crossed!) in person events that allow students from various backgrounds to come together and share their cultures, whether that be the food they eat, special recipes (baked goods are my personal favourite), the clothes they wear, or the festivals they celebrate. Lastly, I will tirelessly strive to work toward diversifying the Faculty of Arts and Science.
"Together, let's create an inclusive and diverse U of L."
You can contact me at azra.pira@uleth.ca and also my instagram azrapira.
Looking forward to hearing from you!
Thank you in advance for your support!