Michelle Kildaw Dhillon School of Business Rep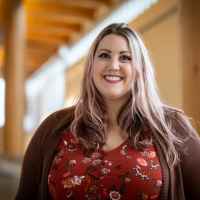 Hello! My name is Michelle Kildaw (my pronouns are she/her) and I am running for the position of Student Representative to the Dhillon School of Business. I moved to Lethbridge four years ago from Saskatoon, SK. where I was born and raised. I attended Lethbridge College for my first two years before transferring to the University of Lethbridge in the fall of 2020 to become a third-year student of the Post-Diploma in Bachelor of Management in Human Resources and Labour Relations. During my time at college, I was an active member of both the student body and student government. My involvement started as a VP to the Business Club for a semester before being elected as a Student Representative for the Lethbridge College Students' Association the following year. As a Student Rep, I held a seat on both the Academic and Student Council, as well as the LCSA's Event Planning and Mental Health Committees. I would host a majority of the LCSA's evening events and have been invited back numerous times over the past year to help co-host their virtual events for Sexy Bingo and Paint Night. In addition, I've worked for the college's student recruitment office as a New Student Orientation Leader and a Student Ambassador during the 2019-20 academic year.
What do you know about the position you are running for?
In my experience as a former Student Representative for the LCSA at Lethbridge College, the position for the DSB will be quite similar. By this I mean I will be participating in student activities, attending monthly/quarterly committee meetings, and voting on important academic proposals. In addition to this, I would also act as a voice and an advocate on behalf of my peers by presenting their concerns to the Student Government and defending the issues that matter the most to them.
What are some of the initiatives you would like to implement if you are elected?
If elected as a student representative for the Dhillon School of Business, I intend to work closely with my fellow representatives to continue the discussion regarding student mental health, re-socialization and inclusion as we cautiously navigate toward a post-Covid-19 academic year. I feel that personal health and safety will play a significant role in the coming months as students (hopefully) return to campus in the fall 2021. In addition, I want to work alongside the ALC to advocate for students with disabilities that may be unaware of the services afforded to them and strive to remove barriers between disability and education. I would also like to implement a Post-diploma mentorship program between the DSB/University, Academic Advisors, and Lethbridge College to ease the feelings of anxiety and answer questions that many new graduates, myself included, have as they transfer from the college to the university. Even if not elected, I would very much like to help the DSB by encouraging this partnership opportunity.