Lionel Migrino Calgary Campus Rep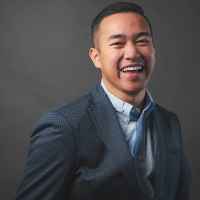 My name is Lionel Migrino (He/ Him), and I identify myself as a Filipino-Canadian living with cerebral palsy (CP). I am proud of his Filipino roots and to be a part of the disability community in Calgary, Alberta, Treaty 7 lands. I recognize that I might be different than most people, but those differences are part of who I am. I am a big believer in community spirit and have been volunteering with many non-profit organizations around the city that deal with marginalized populations.
I am an advocate for equity, accessibility, diversity, and inclusion. For the last six years, I have been very vocal about anti-racism and decolonization, disability rights and the importance of mental health. My advocacy passion has led me to my current job as an Inclusion Training Facilitator for a non-profit organization.
Another strong passion of mine is photography because it gives me a platform to have a voice and show others my perspective in the world. My photography goal is to show people that obstacles should never stop them from going on adventures and chasing their dreams.
Lionel runs for Calgary Campus Representative and is ready to bring his community-building experience and advocacy to the role. He lives by the word "Limitless" because he believes that everyone should feel that they can be anything they want to be despite the systems of oppression.
What do you know about the position you are running for?
I recognize that this role requires me to be an ambassador that represents the Calgary campus. I must be the voice for every student in Calgary and be listen to different experiences from students. Calgary Campus Representative must advocate for every student to ensure that everyone is set up to succeed. I need to fight to make sure that students' education is more accessible for all.
I also believe that this role requires me to be a leader and help shape the Calgary campus community. A Calgary Campus Representative needs to make sure that everyone feels safe on campus. Students must feel that it is ok to embrace differences and express themselves freely. I know there is no such thing as safe spaces because of how the system is, but I want the campus to be a safer space for everyone despite their differences. Diversity and inclusion are sexy, and it is time for us to showcase them on campus.
Also, I recognize A Calgary Campus Representative must build relationships with all the students on campus and identify their needs. They also must make them feel welcome. This role does not only have responsibilities internally but externally as well. I would have to represent the campus in events and recruiting prospective students. A Calgary Campus Representative will have to collaborate with the Lethbridge campus SU and develop ideas to make students' lives better.
I want to be A Calgary Campus Representative to provide every student with the most exceptional learning experience at the U of L Calgary campus.
What are some of the initiatives you would like to implement if you are elected?
If elected, I promise to have more campus community events, such as fundraising events like a blood drive. I know the importance of giving back to the community and developing students to be more socially responsible. My hope for this initiative is to make students reflect on their privileges and ask themselves how they can use their privileges to help others. I expect the fundraising event to be happening in person, but the fundraising events can also do it virtually. Speaking of community, I want to bring the Integrated Management Experience program to be in the Calgary Campus. I feel that the students in Calgary will benefit a lot from this program. Students will practical, analytical and personal skills and help them be connected to their communities in Calgary.
I promise to help students build connections to further their passions in life, and I want to organize more networking events. The networking events will help students develop professional relationships with other professionals in their programs. I want to have more specific networking events to target different demographics. My idea is to hold a women's networking event, Black, Indigenous and Persons of Colour networking events, and a non-profit networking event for students interested in the non-profit sector.
I will advocate for subsidized transit student pass like the other Universities. It is unfair for university students to expect to pay full price on transit passes or pay for parking all day because most students work downtown. I want to make more university services accessible to all students, such as the registrar and Co-op office and academic advising. I also want to advocate for more mental health initiatives and inclusive initiatives on campus. We should have mental health workshops and inclusion training running on campus for the staff and teachers. We should also have an Anti-racism committee in our school to address how the campus can be anti-racist.