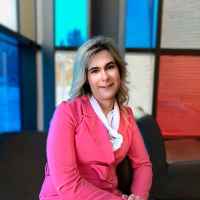 Hi everyone! My name is Blaine, a Mathematics Education student, and I am excited to be running – again – to be YOUR next President! You might remember me from a year ago when I ran for President the first time. Over the past year I have gained new appreciation and understanding of the UofL community as EUS President and Education Rep on the GA. This complements my prior experience at GPRC where I served as President of the Students' Association for 2 years, along with serving on the Board of Governors. This extensive experience with policy governance, working with University Administration, and collaborating with academic leaders allows me to confidentially say that I know how to get things done! That's what you get with Blaine: a confident, experienced woman who is ready to lead our University and Students' Union forward.
It's time to build a UofL and ULSU #ForAllOfUs. It's time to shatter a glass ceiling for trans women. #ItsTime4Blaine!
Facebook: https://www.facebook.com/VoteBlaineBadiuk
Instagram: https://www.instagram.com/voteblaine/
What do you know about the position you are running for?
Being President is not just a job, it is a lifestyle. Until the end of my term, every minute I will constantly be thinking about how we can best serve our students, what do our students need, and how do we get there. It's time for a new relationship with University Administration, which ensures students are being put first when it comes to decision making. Advocacy, to all levels of government, is also a top priority. We need to set realistic advocacy goals so we can work towards an overall better student experience. We also need to strongly fight back against the government when they are on the wrong track. As the official voice of all students, the President plays significant role in this, and it will be part of my responsibility to ensure a cohesive and clear message coming out of the Students' Union. The largest part of the role is to support the entire GA and Executive team. I am committed to providing mentorship and leadership to my fellow student leaders to ensure they are supported in meeting the needs of all students. The President is also responsible for ensuring the overall vision and direction of the Students' Union is maintained. Lastly, the President is ultimately responsible for the entire Students' Union. I take that responsibility seriously, and I will ensure the entire SU is operating at peak efficiency, getting the best results and value for our students, and I will be the first to acknowledge if we are not meeting our expectations. At the end of the day, this is not a job, not just another student leader position, but is a genuine lifestyle that you must embrace to support our students everyday.
What are some of the initiatives you would like to implement if you are elected?
It's time to get back to normal. This means a full return to in-person come this fall, and with that means new bold events that excite students and contributes to a positive student experience. This also means we need to get back to the classroom. I am calling for both sides to get back to the negotiation table to save our semester and protect our university. The SU MUST take a student-first approach during these negotiations and any future negotiations with other organizations.
It's time for bold new advocacy. I will insist on advocating for a new plan for student aid to allow our students to afford the tuition hikes and the ever-increasing costs of living. We must also not be afraid of calling out this disastrous government and supporting one that would invest in students and our shared future. We must also ensure the greater Lethbridge community recognizes the importance of students in our community and our economy. Lethbridge would not be the city it is today without post-secondary students, and we need to be part of the decision-making process.
It's time for a comprehensive review of SU operations and services. We must ensure the Zoo is operating at peak efficiency but also as a center of student life on campus. We must support our clubs, a vital part of the student experience. Our Health & Dental plan must meet the ever-changing needs of our students. We must ensure your SU fees are spent in the most effective way possible.
It's time to grow student leadership capacity across the university. I will bring a new leadership program for female and non-binary students to give them the skills necessary to bring about meaningful change across our campus and the greater community.
It's time for Blaine!