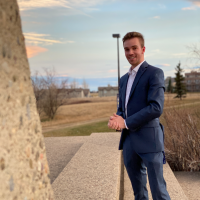 Hey everyone! My Name is Mitch!
I am an experienced, driven University student taking a business degree majoring in General Management with a Supply Chain Management Minor
The reason I'm running for president is simple. I've been a student here for 5 years, and I want to help make this school better for the students that follow.
To get to know me a little personally, I'm super energetic, I love meeting new people and I always try and bring a lighthearted, yet focused viewpoint to all my relationships, personally and professionally.
Experience-wise for this position, I bring an absolute wealth of academic and extracurricular experience at the University of Lethbridge. I've been here now for 5 years. In those 5 years I've dedicated my time to achieving academic excellence, as well as being the driving force behind the record-breaking community fundraiser "Streets Alive Mosaic" in the integrated management experience. I served as VP Finance in the DBSA, as well as a term in the ULSU General Assembly as the DSB Rep. I also am finishing my term as the VPSA within the ULSU executive team. To say that I love getting involved at the U of L, is an understatement.
I'm an avid golfer, I enjoy playing piano (specifically Chopin and Liszt). I also am SUPER passionate about public speaking and presentations (I know it's weird.) I am beyond excited to have to opportunity to serve the students once more as the President of the ULSU.
What do you know about the position you are running for?
The President is the figurehead and the ceremonial leader of the ULSU. The president is the person responsible for providing inspiration, dedication, advocacy, and unwavering commitment for the pursuit of true advocacy of the students at the U of L. This position requires an individual who embodies selflessness, responsibility, and excellent listening skills. Above all, the person that fills this position is ideally a true leader in that they are willing to step to the challenge to represent the U of L Student population.
The President is a co-signing authority of the Students' Union. Having partial authority over a budget as expansive as the ULSU's requires someone with experience managing budgets, and an in depth understanding of financial literacy. As a business student, I have 5 years' experience in this space.
The President is the position dedicated to the overall administration and management of the ULSU and to provide support to every ULSU member to carry out the initiatives that will benefit the students. A good president is supportive, but also provides some guidance when a GA member or EC member needs it. I am positioned well to do so.
The President must also understand post-secondary governance well. Having served a term on the EC, I have ample experience with all facets of procedures, bylaws, policies, and advocacy efforts as a team. The most important thing that the president must have is a strong mindset. The reason I am best for this position is that I have developed a strong mindset. Through adversity faced in the way of COVID, tumultuous times at the U of L and through my extensive experience as a student leader,
I have developed a mindset that lets me focus on what's important and in this case, pure advocacy on students' behalf.
What are some of the initiatives you would like to implement if you are elected?
There are so many things that I have planned for this position, I am unable to list them all. Please accept this as a summary.
What makes my campaign unique is the way I approach things. I have been at the University for 5 years now. I have been a student the whole time. In my approach to leadership and advocacy, I am personal, understanding, focused, and driven. Below are some important highlights to my campaign.
1. Combat Student Apathy – I know what it's like being a student, when I moved to Lethbridge, I didn't have many friends. The best way to make an experience out of your time at university is to simply get involved! This is something, as president I would put at the forefront of my mind. To generate more evolvement among the student population. Individually and institutionally, everyone will benefit from this!
2. Student Supports – This is something I am so passionate about. A student union exists to support the students. Therefore, I believe I this should also be top of mind. Continue to uphold current student support systems such as tutoring and places for students to connect, like discord and other supports and communication tools.
3. Accessibility – When I say accessibility, this encompasses everything from physical access to campus to the complete promotion of a culture of inclusion among the students. Exclusion is something I do not tolerate.
4. Affordability & Good Governance – University is expensive. Of course, in the end it is worth it for the degree. I plan on keeping our university as affordable as possible for all students!
Thanks so much for reading and checking out my platform!
Voting opens on March 8th and closes on March 11th.
Check out my Instagram @votemitch4president to keep up with the campaign and more info.
Email: Mitchellnix1@gmail.com or message me on discord @ City Lights#4190.
Mitch