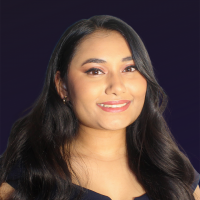 Oki and Hello, Students! My name is Kairvee (care-vee) and I am running to be your ULSU President because I am an engaged student who is passionate about the student experience right here at the University of Lethbridge. I believe through activism, governance and advocacy, and action, we can create a campus and University experience that we are proud of.
The decision to run was not one that I made lightly. Leading the largest Union on campus, representing a constituency of over 8,000 undergraduate students is a responsibility that I take seriously. Working alongside General Assembly members, ULSU staff, and other operations team members, to support students with programs and services provided by the body that advocates on behalf of your best- interests, requires careful consideration and empathy, and I believe I am that candidate.
Within me, you will find an individual who will work tirelessly to ensure your needs are met. I want to be proactive in my approach to leading this institution through some major factors that should not influence whether or not we can get the most basic fundamental right guaranteed to us, the right to an education and the opportunities it will bring for us and those we care for. I will be the first one in the office, and the last one to leave, I will roll up my sleeves and take initiaitve to get the job done right.
I am in my final year of Human Resources and Labour Relations, and am simultaneously also pursuing the Chartered Professional in Human Resources, the CPHR designation. Alongside my education, I bring with me over 2 years of work and internship related experience in both for and non- profit industries such as healthcare, banking, higher education and academia, energy, software and IT, manufacturing, production, and more. I have sat on governance non- profit boards across Alberta that facilitate immediate community needs. My experiences have allowed me to understand best- practices of non- profits across this jurisdiction, overseeing capital expenditures, and ensuring that my governance decisions are directly impacting the mission, vision, and values, of the organization. I measure success through impact and aim to make a positive difference in all things involved in.
Students, I have stood with you, and I have walked alongside you, and I have recently even sat with you, I have advocated with you, and I hope that you will allow me the honour of advocating for you by electing me as your President of the University of Lethbridge Students Union. Thank you.
Please take some time to view my platform and goals through the various links listed: www.https://linktr.ee/kairveeb
My username is @kairveeb on Instagram, Twitter, Snapchat, and Tiktok! You can also visit my website at: https://sites.google.com/view/kairveebhattforulsupresident/
What do you know about the position you are running for?
The position of President has a significant portfolio spanning areas of ULSU Operational, Governance, and External, activities. While that is quite significant in and of itself, the President is also the ceremonial figurehead of the ULSU, representing the institution. The role of President is to aid in overseeing the Human Resources of the organization, to be a delegate at the provincial and federal lobby groups the ULSU subscribes to, be a member on various committees, councils, and boards, and to ensure good governance in activities of the ULSU. The President in a way is a parliamentarian of the ULSU, offering guidance in legislative decision making, policy writing, and overall direction to the organization. This is not possible without the incredible team that is supporting one another, and ultimately, students.
My education and experiences have prepared me to help lead organizations through transformation. I am a disruptive and resourceful leader who will fully utilize and the platform, roles and responsibilities, of this office, to call our inequities and injustices, and that good governance decisions are made; decisions that won't just impact you throughout the year, but throughout your undergraduate experience at the UofL.
I hope you will allow me the honour of overseeing and facilitating this for you as a student, so you can focus on just that, being a student.
What are some of the initiatives you would like to implement if you are elected?
I will neither make nor keep empty promises, I will do what I can with the resources available to myself, and the ULSU, and I will use this platform and the rights and responsibilities it offers, to advocate for your best interests. I will do so internally through committees and boards that govern us and provide the direction of our studies, and externally to partners, and stakeholders, to our elected officials, through our lobbying bodies. I will actively seek out knowledge sharing and best practices with consultation and engagement from students, with GA members, the ULSU operations and staff members, and with my fellow executive team.
Advocacy Efforts
I will continue the provincial, federal, and University- wide advocacy efforts of the ULSU. This includes everything from ensuring the Foodbank is replenished, to directly opposing tuition fee increases and post- secondary education (PSE) cuts and continued advancement of greater campus- wide resources, programs, services, infrastructure, and other supports. Mental health funding, accommodated learning, and so many other support services on our campus are meant to aid students throughout their learning, and they must be accessible.
Intersectional Approach
I want to be intersectional in my approach to assisting students. We have an incredibly diverse range of students with varying needs, hopes, and desires, of their UofL experience.
There are various groups such as the International Student body that are often neglected in decisions, primarily those regarding finances, opportunities for work experience, and access to services that should be assessible to them as UofL students, I will fight for this through policy and through provincial and federal advocacy efforts.
As someone who has been both a Lethbridge and Calgary Campus student and I understand that students at both campuses have different experiences that they are pursuing and I will work to support their immediate needs. The needs of a first- year student, may be quite different than those who are continuing their education, are transfer or mature students, or returning after a break.
I will work to provide adequate supports to students with Disabilities through engagement and consultation and ensure that the ULSU is actively supporting students with the diverse backgrounds and experiences that make our campus, enriching.
I will make platforms to listen and learn from the students and families, of the Treaty 7 lands that the University of Lethbridge sits on, and to support however possible, in the Indigenization efforts on our campus. I will work to ensure this ULSU acts directly in the best interests of all students it represents, that Clubs and ULSU Levy groups are supported, and that the overall student experience is maintained and grown.
Long- term Goal
A long- term goal, I want to revisit is the ULSU's Strategic Plan- which was first developed by the respective committee in 2019 and 2020. While the frameworks presented in this are necessary, they do not reflect the current state needs of the undergraduate student body here at the University of Lethbridge. We are in the second- year of its five-year plan, and the political, social, and environmental, factors that our students are operating out of, are unprecedented. Ensuring adequate action plans are developed and additional supports with actions are required to ensure that a quality student experience is facilitated by the ULSU.
Short- term Goal
A short- term goal I would like to pursue is the introduction of an Annual General Meeting. This is a common practice in non- profit boards which allows the board members, in the ULSU's case the General Assembly and Executive Council members, to present to their members, the students. This is an opportunity to share and understand the priorities for the year with its stakeholders, understand the operating budget, and providing opportunities for insight and engagement that can be implemented and shared throughout the year.
Finally, I want to actively lead the ULSU into creating a culture on campus that is safe, equitable, and accessible for all. I believe that using your voice and your actions to leave a lasting and positive impact is possible. I believe it takes a shared commitment of all members of the campus community, and that begins when even one person stands up and speaks out.