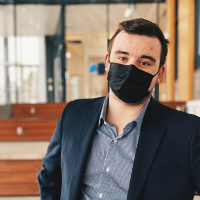 Hey folks! My name is Gage Desteur, and I'm going into my fourth year of general management with a minor in economics. I love being outdoors any chance I get, you can often find me fishing, golfing, or kayaking. You can keep up to date on my socials for more info on me personally! As far as my experience at the University goes, I have completed the IME program where we raised more money for our charity than any class before.
This upcoming year I'm running for ULSU VP Academic. Though I have not served on the ULSU previously, I do have a past track record of Leadership with the DBSA as the Director of Student Engagement and later as Executive VP. When I first started at the UofL in 2017 it was incredibly hard for me to get my footing and start to excel. In fact, at one point I was even forced to withdraw due to poor academic standing. Today however, I'm a regular on the Dean's honor list. I was able to build a network of support with my friends and I started to excel. The experience I had in my first years is the reason that my goal as VP Academic is to ensure no student is left without a support network.
What do you know about the position you are running for?
The Vice President of Academic represents the academic interests of all ULeth students to the University, the Province of Alberta, and other stakeholders. The Vice President of Academic is essentially the voice of all ULeth Students. The VP Academic should have a strong understanding of post secondary governance and legislation in order to truly advocate for our students. The VP Academic should also be accessible to students with strong communication skills. The VP Academic is also responsible for planning the Academic Speaker Series and all other academic activities hosted by the ULSU and promoting undergraduate research. The VP Academic also is charged with being the voice of the students for all academic matters.
If elected, As VP Academic I would make it my top priority to ensure all students have their voices heard by all stakeholders of the University of Lethbridge. I hope to bring my personal experience into the position and ensure that all students receive the most enriching academic experience they can. I will strive to protect undergraduate research and improve students' access to academic resources where and when they need them. As University students we are all aiming to receive the best post secondary education that we are capable of and this is something that I am aiming to protect and improve the current learning environment that students are facing. As VP Academic I will personally advocate for the students and their academic careers to the best of my abilities at all times while in this position.
What are some of the initiatives you would like to implement if you are elected?
The ULSU exists to serve the students and advocate on their behalf. This is a fundamental construct of the ULSU, and something that I take very seriously. That's why I will only make one promise during this campaign: I will do everything in my power to serve ULeth students to the best of my ability.
If I'm elected as VP Academic I will ensure that all ULeth students have access to a high quality and affordable education. As well as access to important Academic and Mental Health Resources. Building a network of support for our students is a top priority for me. Students should always have access to high quality academic and mental health support. My aim is that every ULeth Student has access to these services when they are needed. That starts with a robust and easily accessible mental health network. Students learn better when they are in a good headspace, addressing mental health supports and the gaps in support is going to be critical in helping every student unleash their full potential, especially coming out of the Zoom classroom.
ULeth students have had a tough go of it the last little while. We've been online for so long that there are students in their second year that haven't ever been to campus. My aim is to ensure that these students have what they need to call our campus home and excel. As we transition back to in-person experiences, everyone is going to need a little extra support to get back in the swing of it.