Elisha Wong Arts & Science Rep.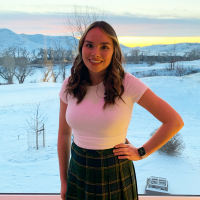 What do you know about the position you are running for?
As an Arts & Science Representative I understand that if elected, it will be my responsibility to accurately represent and advocate for the students belonging to this faculty. I believe that a competent representative of the student body consults students of their faculty before making decisions. Additionally, I believe that some issues may require a representative to advocate both within and outside of the University. This is something that I am willing to do, and have become more comfortable with considering the post-secondary funding situation in Alberta. I hope to accurately represent and serve my fellow students by advocating for and always trying my best to convey their voices within and outside of our institution.
What are some of the initiatives you would like to implement if you are elected?
RESOURCEFULNESS
The past two years have certainly been odd, and as someone who started University during this time I would like to share the skills and lessons I have learned with others. Especially those who will be starting school with us next fall, as starting University can be challenging in general. As a first year student, I found my first semester quite overwhelming and would like to make more resources available for students who may be struggling. I would also like to make some of these resources specific to those who are transferring or just beginning University. I would like to either start more programs to provide assistance, or find new ways to make these already existing services more accessible to students.
WELLNESS
As someone who values wellness and fitness, I would like to extend this passion to my peers. I would like to show others that wellness and fitness can be found in many forms. I plan to start "Wellness Wednesdays," next year. This will provide students with education on wellness and will teach them simple, short, yet effective exercises and tips to assist with the demands of student life.
ACCESSIBILITY
With our world relying more heavily on technology day by day, I would like to work on making as many services available in-person and online. I understand that some things must take place in person, but if a certain program can be held both ways, I would like to ensure that it is available both physically and virtually. This would apply to all services offered by the University, such as counselling, technological support, library services, etc. I strongly believe that making resources and services more accessible to students will result in increased participation among the students and faculty, while improving student experiences.
INCLUSIVITY
As a Women in STEM, I seek to represent those belonging to minority groups. I have worked with my colleagues on several initiatives this year, and hope to continue them, while also bringing new ideas to the table. I plan to educate our students on how we can assist and work with those belonging to marginalized groups.
RESEARCH
I have been involved in Undergraduate Research since High School at the UofL. This has been a fantastic opportunity and I would like to represent undergraduate researchers, and promote research to my fellow undergrads!
I am open to others' ideas as well!
If you would like more information, check out my campaign website!
https://elishawong.wixsite.com/wongforartsci-1