Jessica Martin Arts & Science Rep.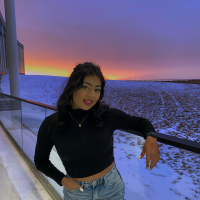 Hello everyone! My name is Jessica Martin, and I am running for Arts and Science representative for this upcoming year! I am in the third year of my Bachelor of Science in Kinesiology and I'm originally from Edmonton, Alberta, but I currently work as a first year RA in University Hall! One of my biggest passions outside of school is basketball; I have been playing and coaching for many years. My favourite team are the Toronto Raptors, and I hope to one day see another championship come home. In summer you can typically find me outside camping, hiking, or spending time with my friends! I am an avid listener of music, and I am always eager to find new songs! I have worked hard to achieve all that I have done, and I am passionate for helping make a difference, especially for matters that concern my education. Like many students, I have been through the ups and downs these past couple of years has shown us, and I want to help aid the transition back to normal!
What do you know about the position you are running for?
The position of Arts and Science representative caught my eye immediately when looking at ULSU positions. This is primarily due to the direct connection the position holds, between students and teaching staff. As a student myself, I know what it feels like to sense a notion of being disconnected from the faculty and not have our voices heard. I would like to be the person who speaks on behalf of those students, and to liaise all decisions in favour of them. To be a representative for my peers would not only be an honour, but also a privilege that I would hold dearly as I understand the importance of being a student voice. I am not afraid to stand up for what is right when it comes to our education, and I will do my best to fight for our students. I want to make this university the shining star that it truly is, and to do so I will need all the support from both my student peers as well as from our faculty as well. I hope that I can use all the trials and tribulations we faced to learn from our past and create a better future for everyone!
What are some of the initiatives you would like to implement if you are elected?
If I am elected, I plan to implement three major pillars into our university.
Connections
My main goal is to drive the connection between teaching staff, and their students. As we have now heard, we will be transitioning to on-campus learning, and my goal is to bridge the gap that may have occurred due to online, or hybrid learning. I will do this through seminars, events and activities that give the faculty and students a chance to reconnect and get to know each other without a screen in between!
Mental Health
This pillar of my platform stems from the constant changes to the COVID-19 situation and its impact on students. Over the past couple of years, I'm sure we can all agree that the dynamic nature has not been kind to us, especially in terms of our mental health. As a representative for my Arts and Science peers, I would strongly advocate for ensuring that everyone has access to the resources they may need to recover from these uncertain times. As an RA I have had a chance to explore all the university has to offer, and I would strongly advocate for these resources. Mental health is very important to me, as it is to many others, and I want to emphasize that it is just as important as an exam or an assignment deadline and remove any stigma around reaching out and getting help.

Communications
The last component of my platform is communication. The General Assembly has publicized their meeting minutes, yet little is widely known about what occurs during this time. I hope to help students get the information they need, in an easy and accessible manner about decisions that will directly affect them. I plan to do so, by implementing a summary system for all the important information that students can use to make informed decisions about their academic careers. This transparency is what I believe could help drive engagement, as well as enhance all my peer's university experience.