Michaela Crump Arts & Science Rep.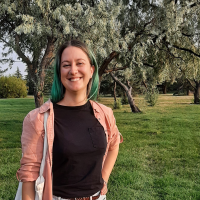 Hello! My name is Michaela Crump, and I am running for the position of Arts and Science Rep. I am a 5th year Neuroscience major entering my last year at U of L in the fall and I am currently the Uleth student representative for the Canadian Bioethics Society. I previously completed an undergraduate degree in Health Science at Thompson Rivers University. After taking Human Neuropsychology with Dr. Kolb last semester, I now have plans to pursue grad school to become a clinical neuropsychologist. I have two cats named Hilda and Mannie, who tend to make appearances during zoom classes. In my spare time you can find me out in nature, creating art, having deep conversations over good coffee, and training in medieval martial arts
What do you know about the position you are running for?
Being a representative of the Arts and Science Faculty is to act as a bridge for the students and university staff. I believe my role is to be an active voice for the students I represent, ensuring that their voices are amplified and heard at the table while also making sure that students are aware of the decisions made that impact them.
What are some of the initiatives you would like to implement if you are elected?
The three main areas that I want to focus on with my position in the SU are Advocacy, Communication, and Community.
To me, advocacy means actively promoting the interests of those I represent. I will be the active voice for the students that bring forward their interests and concerns. My hope to be successful in this endeavor is by facilitating open communication. I will strive to be available and accessible whether that be through email and digital based communications or through bumping into each other in the halls. I will be open and receptive to any idea brought forward to me. My goal is to be approachable, fostering connection and teamwork with my fellow students.
I also want to foster community and connection, which is my last main point. Throughout the last year and a half, I have found connection and community with fellow students to be more necessary than ever before. Being online for classes has been isolating and hard on everyone. I personally found some connection and community through the various discord servers and have developed amazing new friendships as a result. I want to continue this online community while creating spaces on campus to promote further community when we return in person.