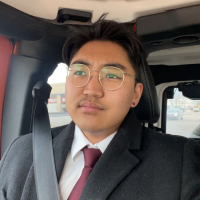 Hello and Oki,
My name is Lucas Choi, I use he/ him pronouns and I am currently in my third year pursuing a degree in Human Resources and Labour Relations with a minor in Philosophy and I am running for the 2022 – 2023 Dhillon School of Business Representative. I moved here from Winnipeg, Manitoba in 2019 looking to get closer to the sense of adventure living so close to the mountains brings as well as greater post- secondary opportunities. Over the past 3 years I have spent my time getting comfortable with a snowboard, golfing for more than 5 months out of the year and volunteering within the community such as circle K international, the soup kitchen in town, streets alive, and my 2.5 years of experience working as a Frontline Disability Service worker at Quest disability services in Lethbridge. I am always looking for an excuse to leave the city but enjoy casuals during a hearty sports ball game.
What do you know about the position you are running for?
I feel as though the Dhillon School of Business Representative position is a vital one on the ULSU as it often feels and appears that this faculty is disconnected from the rest of the university, having its own hall (Markin) and often supplying the courses required for the entirety of a business/ management degree within its walls. This position holds a lot of power through its ability to mitigate and assist in the overall reconnection of the university's student body through events, promotions, and clear communication regarding the needs, and requirements of the students participating within the Dhillon School of Business faculty. This is ironic considering this faculty provides courses on the inner workings of organizations and the interactions between individuals within those organizations and I feel as though I can apply the knowledge taught to me through this faculty to not only better the connections already present but to also make new longstanding connections. This of which all stems from having a clear, concise, and outspoken voice that represents the student body within the faculty in question of which I can provide while also being present and listening to those who have decided to put their trust in me as their Dhillon School of Business Representative.
What are some of the initiatives you would like to implement if you are elected?
I promise to engage students through in person activities as well as providing continued external virtual supports that prove to be vital during times of global crisis. While keeping students engaged, I also plan to ensure mental health and wellness as a top priority during my time as a DSB representative as we navigate our way out of a pandemic and back into normalcy as seen through our provincial government. Especially during a time where government funding decides to cut mental health services, I want to provide all the means possible to listen and hear your voice, provide clarity, and also spread awareness of the understanding that we are all young adults navigating our way through the diminishing returns of post- secondary in the modern day as well as trying to find who we ought to be in a world that has an article for everything else. I want to find ways of maintaining our current reputation as a school and faculty that ensures connections for students geared towards even higher learning opportunities with hands-on job experience that comes along with volunteer opportunities and projects within the community, much like the streets alive mural that was organized by a student completing their degree through the Dhillon School of Business that has opened a wide array of new opportunities for students in looking to innovate the community. As a post-secondary institution with true values we must remember to be flexible and to reimagine what it means to be a student in a world where change remains a constant and education is something we must fight for.