Nathan Crow Indigenous Rep.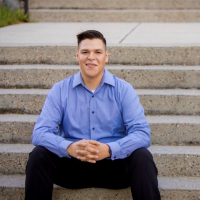 Oki niisto nitaaniko Ponokohkyiaao (Hello, my name is Elk Bear); My English name is Nathan Crow, and I am a 29-year-old Blackfoot male and member of the Kainai First Nation. I returned to school as a mature student in September of 2019, after taking nine years off from my educational career to enter the work force, and I have fully dedicated myself towards succeeding and reaching my full potential since returning to school, which is one of the main reasons I have been able to excel at the top of my program. Since entering the Indigenous Governance and Business Management program in the Fall 2020 semester, I have made the Dean's Honor list in the Fall 2020 and Spring 2021 semesters, while also working two part time jobs with the University of Lethbridge in the library as a student assistant, and with enrolment services as a student mentor. I have also been chosen to be profiled in the 2022/2023 University of Lethbridge viewbook as one of their five shining students. I have taken on a leadership role amongst my peers since starting at the University of Lethbridge, which I feel I have demonstrated by being elected as the Indigenous Student Representative for the University of Lethbridge Students' Union Council (ULSU) in September of 2021. This role requires me to commit 10 hours a month towards advocating for and representing the Indigenous students within the uLethbridge community. Although since entering into this role, I have gone above and beyond the 10-hour requirement each month, and this is because I strongly believe that 10 hours is not enough time to make a positive change and implement my various initiatives. I am also very connected to my community of the Blood Tribe, and I am very passionate about being a leader for Indigenous youth.
What do you know about the position you are running for?
The Indigenous Student Rep position on the Students' Union Council is responsible for representing the Indigenous demographic within the University of Lethbridge community and ensuring there is an Indigenous perspective and aspect to the initiatives put forth by the Students' Union Council, as well as being a voice for Indigenous students by addressing and dealing with any issues or concerns relating to or put forward by the Indigenous student population. The Indigenous Student Rep must also "attend all General Assembly meetings and make informed decisions about the motions put forth on the agenda; Assist in ULSU activities; Submit a monthly report to the President and Executive Assistant summarizing their activities for that month; Sit on at least one ULSU committee; Sit on at least one University committee; and Must volunteer at two ULSU functions, events, or activities each semester" (ULSU, 2021). I believe that this position must work closely with other Indigenous professionals, faculty, staff, academics, Elders, and students to properly fulfill the respective duties, which is what I plan to continue doing, should I be re-elected. I believe it is crucial that this seat not be left vacant, so that the Indigenous demographic within the uLethbridge campus and community are not left without a voice at the student level, and more specifically, I believe that this position would be best represented by a member of the Blackfoot Confederacy, as it's important not only for local Blackfoot students, but those we welcome to our territory.
What are some of the initiatives you would like to implement if you are elected?
I grew up in Lethbridge my entire life, and as an Indigenous person, I believe this has enabled me to walk in two worlds and see the world through a two-eyed seeing lens. It wasn't until I returned to school at the University of Lethbridge in 2019, that I was introduced to these terms which I feel are a great definition and representation of how I see the world and choose to walk through it. I plan to use the concept of two-eyed seeing and my experience of walking in two worlds to achieve my prospective initiatives if I am re-elected as a member of the Students' Union Council, which will mean using the strengths of both cultures to actively collaborate with both the Indigenous and non-Indigenous demographic at the University of Lethbridge and surrounding community. My prospective initiatives as a member of the Students' Union Council will be to continue working closely with Iikaiskinni (Indigenous Student Centre), the Indigenous Student Success Cohort and other Indigenous faculty, staff, and clubs within the uLethbridge community to ensure that the Indigenous demographic is actively participating in community and campus events in collaboration with other uLethbridge programs, services, departments and clubs. An additional initiative, if I am re-elected, will be to continue the University of Lethbridge's priority to Indigenize the institution, which is defined as "the action or process of bringing something under the control, dominance, or influence of the people native to an area." Although I will be focusing on what is called Indigenization inclusion, which is defined as "… increasing Indigenous faculty and student admission. This approach focuses on addressing the need to accommodate Indigenous faculty, staff, students, and communities in overcoming obstacles, so they are successful within the academy" (Gaudry & Lorenz, 2018). I plan to achieve these initiatives by engaging with the Indigenous demographic internally within the uLethbridge community, and externally through the advice, guidance and support of community Elders, professionals, and academics.