Megan Cunard Residence Rep / ORS President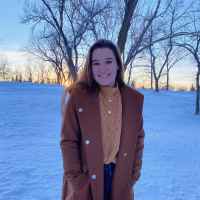 Hello! My name is Megan Cunard, and I am a third-year student, studying Canadian studies and education. I am running for the position of ORS president and residence rep. I am currently an RA in Piikani 1/2 and I have fallen in love the this organization and would love to be more involved in it. My passion for leadership arose from my time as a national figure skater where I got the privilege to lead my team on and off the ice. I fell in love with the team dynamic that ORS has and getting to work with a team full of fun and diverse people brings me a lot of joy! In addition, this organization does so much great work and creates a home away from home with an incredible sense community on campus, and I would like nothing more than to bring my ideas forward and continue making residence a safe and great place to live.
What do you know about the position you are running for?
This role is so important for all the students living on campus. The president helps in guiding the team of resident assistants and the Operations team to create an incredible community in residence. The president specifically does a lot of work behind the scenes, they would work very closely with Housing, the rest of the executive team, the resident assistants and the Operations team. These interactions are not widely seen by the residents that they represent but they would work extremely hard to ensure the residents experience on campus goes as smoothly and as safely as possible. This role is also the residence rep in the ULSU, meaning they sit on the GA and attend those meetings as well. This is also an essential part of the role as it is so important to work with the other GA members to really help give residents the most help and support.
What are some of the initiatives you would like to implement if you are elected?
If elected, I would love to work closely with the members of the GA to help support students as much as possible. Working with the ORS team, alongside representatives such as the arts and science rep, or the fine arts rep, etc., can really help spread more information about what the ULSU can do for students, and it can help residents get the support that they may need throughout their academic careers.