Raven Huery ORS - VP UHall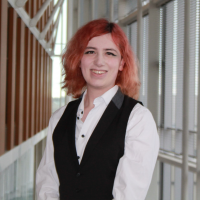 Oki, and hello! My name is Raven Huery and I am running for the position of Vice President for University Hall. I am a second-year Management and Computer Science student here at the U of L. I have lived in all three facilities; Coulie View, Parkway, and currently Uhall. That is where I serve as the Resident Assistant for the DE1 community. I am also the current chair of the ORS Inclusion and Advocacy committee. There we host a wide variety of programming that promotes inclusivity and equity in residence. I have a wealth of experience with ORS after only one year of serving as an RA. I attended LEAD 2022 2.0 back in November. There I was able to network with other residence life professionals and listen to presentations given by student employees from all across Western Canada. I was also awarded the coveted Jesera Nichol School Citizenship Award, which celebrates my commitment to residence life and the U of L residence community. I am also the current treasurer for Q-Space and have been since the Fall of 2021. There I have continued to advocate for the queer community of Lethbridge and Southern Alberta, and that is something that I hope to bring with me to the role of Vice President. When I am not busy you can find me watching some great movies with friends and exploring the Lethbridge area. I am always looking to try new things. Thank you for reading my bio and I hope you consider me for the position!
What do you know about the position you are running for?
What are some of the initiatives you would like to implement if you are elected?