Punvin Verma Calgary Campus Representative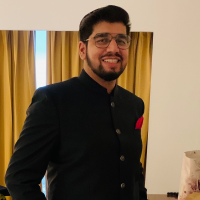 Hey fellow folks, I have been an integral part in making all the arrangements and having to start with new initiatives at the Calgary campus that is in the benefit of the students. I am in my final year of the university degree, and I have been a part of a lot of voluntary work and student clubs in the university, so I know what the students prefer. Most of the people who know me have seen that I work relentlessly and for the best of the students.
My main initiatives that I'll look forward to are:
1) Getting the bus pass issue resolved for the students.
2) Initializing the club gathering and events for the students Calgary campus.
3) I will be looking forward to helping incoming students in settling down and the current students
as well.
4) I will be looking forward to providing best possible service to the students.
I came to Canada in 2019, as an international student. I try to help students with those issues that I had seen during my first few years in Canada. As an international student, I know what issues international students feel and at the same time I try to be the voice for these students whether it be domestic or it is international. I usually work closely with the International Centre at the Calgary campus and help to attract more students for future opportunities. I have helped in developing more student engagement at the Calgary Campus and I strive to achieve more interaction before I graduate. I have had opportunities to help students in almost all the possible ways in which I can. I am trying to achieve success by collaborating with more and more international students for events that can be an icebreaker. I plan to achieve the goal of getting bus pass introduced to the students of the Calgary campus. Moreover, I achieved the scenario of getting students to have morning and afternoon classes at the Calgary campus so that they can have the ease to attend classes. My aim is to help the students with almost all the prospects that might be a hurdle for them. With the support of the university, I was able to have the long-awaited booth fair for the Calgary students so that they get to know in depth about the university programs.
What do you know about the position you are running for?
What are some of the initiatives you would like to implement if you are elected?