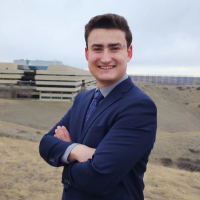 Dylan Merritt grew up in Calgary, Alberta with his parents and younger brother and is currently enrolled in a Bachelor of Science degree with a major in psychology. Before attending the University of Lethbridge, Dylan was a competitive athlete in karate where he was successful in earning a spot on the Alberta Provincial team as well as the Canadian National team. During his time with Karate Canada Dylan was privileged to represent his country in competitions in Ireland, Croatia, and at the Pan-American Championships in Brazil. While he loved competing and what he learned from it, he also enjoyed the numerous people he met and the friendships he gained through sport. Dylan also taught karate through his home dojo in the "Just for Kicks" program for 4- and 5-year-olds and mentored younger athletes in the club. While he wasn't training, or in school, Dylan took pride in his work as a physiotherapy assistant and customer services representative for one of Canada's largest private healthcare providers. He was always happy to help people navigate the system and access the care they needed. Dylan is enjoying his time at the University of Lethbridge and what the city has to offer. He is looking forward to having his shepherd dog, Elsa join him next year.
Throughout my early years, I have been exposed to the importance of volunteering and contributing to your community. I have also learned the value of advocating for the needs of others. As President of the Students' Union, I will ensure that every student regardless of their lived experience, will feel that their voice on campus is heard and valued. I desire to create a Student Union body that is open and transparent, that considers the needs and issues of all students, seeks feedback from all groups of students and will endeavor to create a Student Union that is responsive to the issues of the student body. I will also seek to review and ensure that the governance of the student union follows best practice and one that creates an environment where the Student Union can collaboratively create positive change for the University of Lethbridge students' experience. This will include a review of the Students' Union's membership with CAUS and CASA as to ensure that these organizations and their actions are in line with the values of the students of Lethbridge. These plans will require increased accessibility and outreach between the Student Union and the student body. I am also aware that many students are struggling and have concerns with housing and food issues and insecurities. If elected, I would seek to work collaboratively with ancillary services to address the issues and needs brought forward regarding housing and food services.
What do you know about the position you are running for?
What are some of the initiatives you would like to implement if you are elected?