Juanita DeVos VP Student Affairs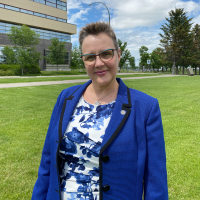 As a mature student working on a 2nd degree in Human Resources & Labour Relations (first degree is Theatre), I bring a variety of previous experience and a passion for life-long learning. On top of several years of administrative positions, I have been the Production Manager of both the Ottawa Fringe Festival and Ottawa City Juno's Street Party, and Co-Creator and Producer of the Windy Castle Medieval Faire. I make connections in my community and volunteer a lot of my time to various organizations. I am currently the Run Director Logistics for the Canadian Cancer Society's CIBC Run for the Cure, am an avid Tabletop Gamer and Game Master, and support local theatre as a designer, director, stage manager and actor. I have experienced that the connections you make in your community are of great benefit to your quality of life, your mental and physical health, and your career. I want to do my best to ensure that all students have opportunities to make these kinds of meaningful connections.
I was voted into this position of VPSA of the ULSU at last year's elections and have done all I can to support Clubs and enrich the experience of students on our campus by helping to create events and support student initiatives. My term has been far from perfect, and I still feel like there is so much more to do and so many more connections to make to truly support and grow the culture of student life on campus. Like any position, it took several months to finally get up to speed with the scope of this role and so I would like the opportunity to fulfill these duties for one more year. My goal is twofold: 1) I would like the opportunity to be able to use all I have learned in the first term of this position to do it better in the second, and 2) I would like to have more time to continue to consolidate wealth of knowledge and experience of previous VPSA's into a format that will help support the work of all VPSAs to come. By doing so, I believe that this will help future VPSAs to get up to speed much more quickly and be able to do more to serve our campus community.
What do you know about the position you are running for?
What are some of the initiatives you would like to implement if you are elected?