Rachele Preston VP External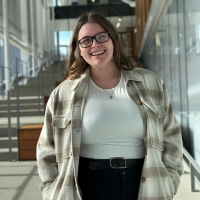 Hi! My name is Rachele Preston, I use she/her pronouns. I am currently in my 5th year of my Bachelor of Science and Bachelor of Education, with a General Science and Mathematics Education major. For the 2022/2023 academic year I served on the General Assembly as the Education Representative. It was through this position that I was able to do extensive student advocacy as well as become familiar with ULSU bylaws, programming and systems. I would be able to take these experiences directly into the position of Vice President External as it has giving me a head start on the connections with students, within the greater University community, and a greater understanding of the role of Vice President External. I have been able to build relationships with students, these relationships will provide me the opportunity to have a strong understanding of student needs and beliefs. Additionally, through being an education student, I have a strong understanding of professionalism, and a true passion for the protection and accessibility of education. This passion will be carrying me into successful lobbying with both the municipal, provincial, and federal government on the matters of post-secondary education and the issues that undergraduate students face including, but not limited to, food insecurity, securing housing, tuition costs, and mental health.
As your VP External, I want to make sure that the student voice is heard and represented not only within our campus but also outside of it. Here are some initiatives I would like to implement:
Establish strong relationships with local businesses and organizations: As the VP External, I will work towards creating and maintaining strong relationships with businesses and organizations in our community. This will help to provide more opportunities for students to get involved in the community, such as internships, volunteer opportunities, and sponsorships.
Collaborate with other universities: I believe that collaboration with other universities can be beneficial for our students. I will work towards establishing partnerships and collaborations with other universities to create a broader network for students. This will open doors for more opportunities for our students to participate in events, competitions, and other initiatives.
Promote student involvement in government: I believe that students should have a voice in government decisions that affect them. It is part of the VP External's role to encourage student participation and engagement in elections. With an upcoming election in May, the student voice is needed now more than ever, and the engagement from students will be important.
Foster diversity and inclusion: As the VP External, I will work towards promoting diversity and inclusion within our community. This includes working with local organizations to create events that promote cultural diversity and hosting workshops on topics such as allyship and cultural awareness. Additionally, I plan on working with the incoming ULSU team in order to work towards implementing EDIA training for all of our student representatives, and to encourage our representatives to uplift the voices and experiences of historically marginalized populations.
I believe that these initiatives will not only benefit our student body but also our community as a whole. As your VP External, I will work hard to ensure that your voices are heard and represented. Thank you for your consideration, and I hope to earn your vote!
What do you know about the position you are running for?
What are some of the initiatives you would like to implement if you are elected?