Talmann Frostad VP External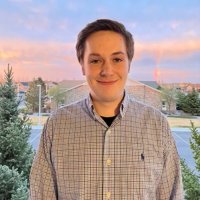 Hi Uleth Students! My name is Talmann Frostad and I am running to be your VP External. I have been a student at the University of Lethbridge since 2018, currently working on finishing my BA with a major in Political Science and minors in Asian Studies and History. I am passionate about all things political, specifically when it comes to issues involving the environment and our community. I grew up in the small town of High River, making Southern Alberta and the unique issues it faces very near to my heart. Alongside my studies, I am a member of the Lethbridge Public Interest Research Group's (LPIRG) Board of Directors, where I help to provide advocacy and support for Ulethbridge students and other community members. I also work as a research assistant at the Prentice Institute, where I have earned hands-on experience working in the political science field. During my spare time you can usually find me watching sports - I love anything from football to ultimate tag - or hanging out with my two cats Nala and Enzo! I hope that as your VP External, I can help more students become active members of this amazing UofL and Southern Alberta community! I look forward to connecting with all of you - don't hesitate to stop me and say hi if you see me gasping for my breath on the UHall stairs!
As your VP External, one of my main focuses will be on improving the support and advocacy provided to students. Over the past year, University of Lethbridge students have faced multiple challenges including strikes, tuition increases, Covid-19 and most recently a challenge to Indigenous voices. I believe that it is my responsibility to ensure that all students have an external advocate that understands the processes of all levels of government, while also maintaining a clear and direct line of communication with students. With my political science background, I feel that I am able to effectively work with members of government on important issues and garner positive results. Throughout my years living and working in Lethbridge, I have developed strong connections with individuals here that I will use to further the work of the Student's Union and the University. From working at the ground level with the City of Lethbridge during the 2021 Municipal Election, to working for the provincial government's Agriculture and Finance department, and ultimately on a federal refugee sponsorship research project funded by Immigration, Refugee and Citizenship Canada (IRCC), I have had the opportunity to work with all levels of Canadian government. This provides me with the unique experience of how the government operates on each level. I look forward to applying this knowledge through the VP External position, through the coordination of events and development of relationships. At my core, I deeply understand the struggles and challenges so many students face and will actively work to provide support wherever and however it is needed. I understand what it feels like to be voiceless, and will work to ensure that no student feels that way and will push all levels of government to both hear and value University of Lethbridge students.
What do you know about the position you are running for?
What are some of the initiatives you would like to implement if you are elected?