Gage DeSteur VP Operations & Finance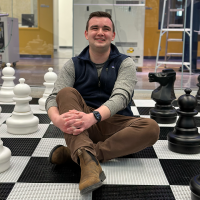 Hey ULeth!
My name is Gage Desteur and I'm a management student here at ULeth! I'm running to be your next Vice-president Operations and Finance at our Students' Union. I'm running so that our Students Union can serve you better, faster, and fill the gaps that we students need so we can reach our full potential. This year I served as the Vice-president Academic where I've seen firsthand the gaps in Students' Unions services and resources that need to be filled and supplemented. This is Resources like our Foodbank, which has seen record levels of usage, and our health and dental plan that can be adapted to better serve student needs.
In a time of rising costs, students are being left behind. Rising food costs, tuition costs, and even textbook costs are making it harder for more students to access and keep up with the costs of a post-secondary education. That's why it's important that the Students' Union adapts with students to better serve students. I plan on streamlining the application process for all ULSU resources, like student emergency grants, club funding grants, and our Foodbank.
My vision for our Students Union is for anyone to be able to come into the SU and feel safe, heard, and supported. I want to start by making the SU the heart of the student experience by being more involved in the day-to-day lives of the most important group on our campus, you, the students. My goal is for students to know that their Students' Union has their back.
Please follow me on Instagram for more about my platform! Instagram: gage4vp_opfi
What do you know about the position you are running for?
What are some of the initiatives you would like to implement if you are elected?