Foster "Tetoush'nux" Wright Indigenous Representative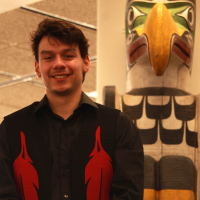 Oki and Yo. My name is Foster, but one of my names given to me is "Tetoush'nux". This translates to Singer of Thunderbird songs in my Indigenous culture Kwakiutl. I come from a small reserve called Fort Rupert, about 30 km from Port Hardy on the north end of Vancouver Island. I am currently in my second year in the Addiction Counseling program. My interests include working out at the gym, playing hockey which I did for 12 years and had the privilege of representing First Nations Team BC at the National Aboriginal Championships. I also enjoy spending time in the wilderness. Seeing wildlife and the beauty that this world possesses brings a smile to my face everyday. I chose this program because of the importance it has in every community around the world, in addition to my willingness to help and support others. Not just my brothers and sisters. Fortunately, I have been challenged with an abundance of hardships throughout my life. From the loss of my mother and the lack of a father. To my own addiction that took control over me for 5 years and left me homeless. Which has now brought me to a place of 30 months sober. My empathy for both my peers, and those whom I have yet to meet yet are traits I am excited to apply to my experience on the council. I am hoping I can apply my enthusiasm of "understanding" to the position of Indigenous Student Representative. I hope to meet everyone very soon, and we can start making an impact together.
What do you know about the position you are running for?
What are some of the initiatives you would like to implement if you are elected?