Tyler Andersen Residence Rep / ORS President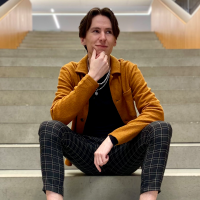 Oki and Hello everyone. My name is Tyler Andersen, and I am currently a fifth-year social work student running for the position of ORS President/Residence Rep. Throughout the entirety of my university career I have had the privilege of living on campus, and as such have come to discover my passion for working in residence life. During the 2021/2022 academic year I decided to apply to become an RA because I wanted to become more involved in the university community, and I ended up loving the job so much that I decided to run in last year's election for the position I am currently in, which is the VP of University Hall. Throughout the last two years working with ORS, I have had so many opportunities to think critically and reflect on the different issues and injustices surrounding the residence community and how we can work to remedy these to make this space safer and more inclusive for all the different intersecting identities that compose our community. As such, my reason for running is simple: I want to work towards instilling positive and healthy change in the residence community. Through my campaign pillars: camaraderie, wellness, and social justice, I aim to bridge that gaps that exist in our community within residence and the general campus context, establish a culture where wellness is a priority through different resources and services available on campus and address the different inequalities present in our residence and campus communities through providing space for members of marginalized groups to share their experiences and consider them through a social justice lens. If elected as president, I promise to remain accountable to the residence community as their president and represent them fairly and accurately through the general assembly as the residence representative.
The residence community is beautiful through the diverse intersecting identities it brings together. While this can create thunderstorms, these are often only temporary. When coming together, we're able to create a community where we can learn, grow, and support each other along our journeys. If elected as president, I aim to instill a strong sense of camaraderie throughout the residence-wide community by collaborating with council members to bring everyone together socially and academically. Additionally, I desire to expand our camaraderie outside the residence bubble to other communities on campus. Physical, mental, sexual, spiritual, and emotional wellness are all extremely important for us to be practicing, however, they can often be easy for us to overlook. As part of the residence community, there are many different connections that we can utilize to fulfill wellness needs, both internally and externally. If elected as president, I want to capitalize on events that promote resident wellness, as well as make our residence community more informed of the different supports available to them for wellness. Wellness is a goal that we can attend to at the micro level, but it's also important we attend to our wellness at a mezzo level as well. Our university and residence were formulated on white, patriarchal, cis/heteronormative colonialist values and principles. Unfortunately, this affects many in the residence community who are members of marginalized communities in overt and subtle ways that can leave these individuals feeling alienated. We have a responsibility to make residence an equal, safe, and fun opportunity for the different communities that call this place home, and this starts by dismantling traditions, events and practices that operate against these values. If elected as president, I want to be an advocate for marginalized communities and work alongside them to introduce positive change through a social justice-oriented lens.
What do you know about the position you are running for?
What are some of the initiatives you would like to implement if you are elected?